Comment on Who Is Conning Whom? by easyJambo.
From twitter
I can categorically deny Rangers were ever interested in Aberdeen manager Derek McInnes. Neither did we speak to him, pester him or use the media to convince him to come. We've never even met the man before. So we huvnae.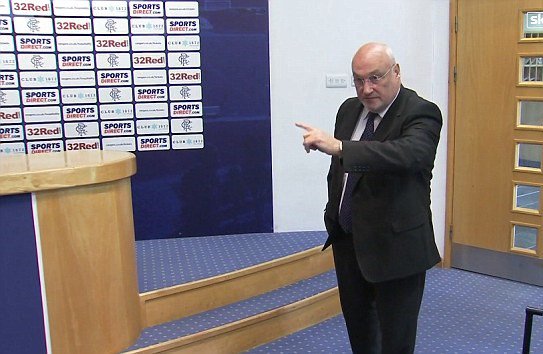 easyJambo Also Commented
Who Is Conning Whom?
I'm afraid I'm away on holiday while next Friday's hearings are on. I'm unsure if JC is similarly unavailable.
---
Who Is Conning Whom?
Court business for next Friday morning:
LORD TYRE – C Munn, Clerk
Friday 15th December
By Order
Between 9.00 and 10.00am
P115/17 Note: RFC 2012 Plc for orders under para75 – Shepherd & Wedderburn LLP – Wright Johnston & Mackenzie LLP
This is the BDO action against the administrators
… also
LORD DOHERTY – E Hunter, Clerk
Friday 15th December
P997/17 Note: RFC 2012 Plc for orders under4.16 –
Dentons – Brodies LLP
---
Who Is Conning Whom?
Statement O'Clock
https://rangers.co.uk/news/headlines/club-statement-83/
THERE has been a great deal of media speculation regarding the appointment of a new manager. We assure all supporters that they will be the first to know when we are certain we have someone with the correct qualities required by our club.
The Chairman made it clear at the AGM that the club did not consider there to be an outstanding candidate among those who had applied for the position and the club was therefore considering managers currently under contract. This requires permission from their present clubs.
The position of Rangers manager requires an ability to win football matches and the mentality to cope with the demanding off-pitch environment that goes with being the Rangers manager. This is a critical aspect of our assessment of any candidate during the interview process.
After the two games against Aberdeen, we requested permission to engage with their manager to assess his readiness and willingness to consider the Rangers position. This was declined. We were subsequently made aware by Aberdeen's statement that, at this stage in his career, it would be best for him to remain in his current post. We endorse that position because moving to a massive club like Rangers is a big step with concomitant risk. We continue to consider candidates but will only appoint someone in whom we have full confidence and who feels he is ready for the job.
In the meantime, we have great confidence in Graeme Murty, who will continue as interim manager at least until the end of the year. The manner in which he has approached this task is a credit to himself and the club.
---
Recent Comments by easyJambo
Fergus McCann v David Murray
Given that the blog has reverted to its seemingly inescapable time warp relating to events of 8-10 years ago, it is appropriate to mark the 10th anniversary of an event that set the ball rolling in contributing to
the sale of RFC for £1, its financial collapse and subsequent consequences of administration,
liquidation, as well as Res 12.
That event was HMRC's success in the Aberdeen Asset Management FTTT, the decision for which was published on 29 October 2010
RFC, who operated a similar Discounted Option tax avoidance scheme, had actually been presented with a Tax assessment as early as September 2007, which they appealed. Their appeal was put on hold pending the outcome of the AAM case. Following the decision, HMRC issued RFC with a new offer to settle the following month.
The rest, as they say, is history and "in the past it must remain". No matter how many times the blog returns to the events of 8-10 years ago, no-one in the football authorities or in the SMSM is listening, nor are they likely to change their mind now.
I believe that it is now time to move on. Not to forget what happened, but to move on all the same.
That is what I plan to do.
---
Fergus McCann v David Murray
bect67 26th October 2020 at 20:05
Probably an unfair question, but could you venture an opinion (for the less financially astute members of our community e.g. me!) as to what the comparable returns for TRFC might look like – assuming, in a break from their 8-year old tradition (?) that these be 'unpockled'?
==============================
You are correct. It is an unfair question 
, but we should get sight of the accounts in the next month or so.
We know they had a forecast £10m shortfall in last year's accounts. That was almost certainly reduced by their unbudgeted extra EL revenue.  We also know that DK provided a £5m loan facility. We can also state with some certainty that Park, Letham and Taylor plus Gibson provided additional funding which has since been converted to equity in the recent share issue.
They will show a loss, albeit that it will have been covered by the loans/share issue. How much is still outstanding is anyone's guess.   
They have operated with year on year losses, but despite the doom mongers forecasts they have found a way to remain afloat and grow their business, improving the strength of their squad and on-field performances year on year.
They may forecast further shortfalls for this current year, perhaps with yet another share issue, but there is nothing to suggest that their business plan is failing.  Indeed, they appear to be getting stronger on and off the park.  Their new merchandising deal appears to be working and bringing in additional revenue (I don't know if SD walked away, with or without cash, or declined to make a matching offer).  They have also sold out their 46,500 ST allocation, meaning that their match day revenue will be as high as it can be in the circumstances.
Covid restrictions will still impact them, but I do think that they are in as good a shape as most other Premiership clubs to come out the other side relatively unscathed. 
---
Fergus McCann v David Murray
The fall in Celtic's revenue is across all areas.
Football Operations down £7.5m
Merchandising down £3m
Multimedia and other Commercial activities down £2.7m
This current season could be even more challenging with the increased liabilities and reduced income. The club has also increased its revolving credit facility from £2m to £13m (still unused) just in case.
---
Fergus McCann v David Murray
Current liabilities  2020 2019 
Trade and other payables     20,744     13,957
Lease liabilities    604       –
Borrowings  1,364     1,364
Provisions    5,942      3,479
Deferred income    21,275    25,614
Totals                    49,929     44,414
Looking at the above figures I was trying to work out the ongoing liabilities for deferred wages.  I don't know if it will be included in the £6.8m increase in Trade and Other Payables, or in the £2.5m increase in Provisions.
The drop in deferred income suggests a fall of £4.2m in Season Ticket revenue.
---
Fergus McCann v David Murray
The previous post should read "cash in the bank down"
https://www.londonstockexchange.com/news-article/CCP/results-for-the-year-ended-30-june-2020/14732713
---