Comment on Time to Ditch the Geek Show by easyJambo.
How the SA business media have covered the King takeover case.
MICROMega's Dave King in hot UK water as lawyers admit he lied to Rangers FC fans
In September 2013, Joburg-based serial entrepreneur Dave King paid an eye-watering R706m to SA Revenue Services after a 13 year fight. His refusal to accept authority has now landed the JSE-listed MICROMega chairman back in more hot water. He is the focus of a well publicised court case brought by the UK's Takeover Panel.

King and his cohorts acquired effective control of the listed football club Rangers FC two years ago at a price of 20p. UK rules require him to make an identical offer to all other shareholders. King refused, arguing that as the market price had since risen to 32p, it was a fool's errand.

The Takeover Appeals Board then ordered King to make the offer by April. He refused once more. So a well publicised court case started in Edinburgh yesterday, one which is turning into a huge embarrassment for the serial entrepreneur. Specifically because of a boast before becoming Rangers chairman that he would inject £30m of his own money into the club.

Yesterday King's lawyers admitted their client doesn't even have the £11m required to make the stand-by offer to other shareholders – much less what he promised. For Rangers fans, that news is likely to enjoy the popularity of a green and white jumper, colours of arch rivals Celtic.
easyJambo Also Commented
Time to Ditch the Geek Show
I have to treat PMGB's latest speculation as to an insolvency event with a whole lot of scepticism.
While admin would allow unwanted high earners to be released, there are other considerations such as "football creditors" rules which, despite appearing to be an illegal constraint on trade, have been imposed by the football authorities in the past (e.g. Hearts were required to pay £535k to football creditors following admin, despite a CVA being approved). The affected players would certainly be treated as football creditors, so they would have to receive at least part of their contracts paid off.
Also, If Rangers acquired the players registrations by means of staged payments to their former clubs, then again those clubs would have to be paid in full.
Another consideration would be that of the directors themselves who could render themselves "unfit" for the next five years if the football authorities actually saw fit to apply the letter of their own rules. As for King, Murray and Johnston, they would have been involved with two insolvent clubs within six years, so perhaps should be given a sine die suspension.
---
Time to Ditch the Geek Show
Allyjambo October 24, 2017 at 19:10
upthehoopsOctober 24, 2017 at 18:47 Can any resident Hearts fans enlighten me.Immediately Behind the Wheatfield Stand at Tynecastle there is a walled grass area. Was this a training area in years gone past, and is it still used in any capacity by the club? It's a long while since I've been in Tynecastle and as a visiting fan it is an area I have never seen.
__________________
EJ will be able to give a better explanation than I, I am sure, but basically, Hearts have never had use of the pitch there, it was given to the community (I think) by the distillery after they demolished part of their building. Now, however, Hearts Community projects use it, and, as part of the redevelopment of Tynecastle, temporary dressing-rooms have been built under the Wheatfield stand for use until the facilities are ready under the new stand, and these will be handed over to the community to use in conjunction with the pitch you refer to.
=====================
I can't add anything. You have described it as I understand it.
---
Time to Ditch the Geek Show
wottpiOctober 23, 2017 at 14:49
As for our new roof I don't think there will be any backlash if the 5 November date is missed. The club (unlike DCK & T'Rangers) have already kept everyone informed in an open and transparent manner that the schedule is tight and that it may be Plan B will come into operation. The message being better to be safe and late than make a cock up of it all.
The new stand is a good news story for Scottish Football and while there may be a wee it of flack I think most people will welcome if, even if it is a few weeks late.
======================
As expected a further two week delay has been announced, so it will be Partick Thistle on 19th November who will "open" the new stand. I'd expect Tynecastle to sell out for that game.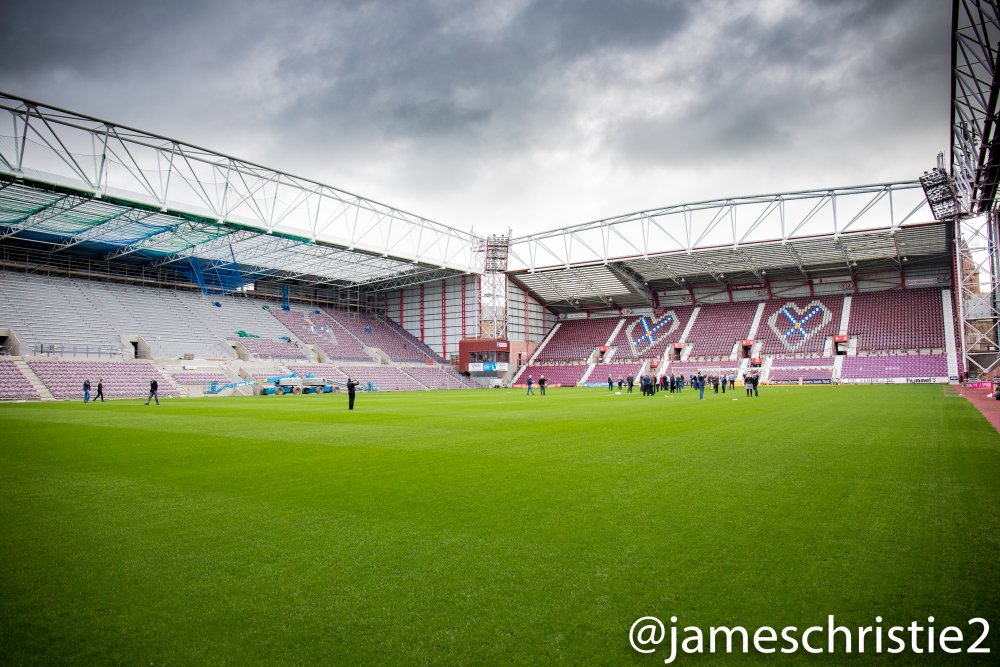 Photo from yesterday – (c) to James Christie.
---
Recent Comments by easyJambo
It Is Better To Offer No Excuse Than A Bad One
Allyjambo January 2, 2018 at 14:38
————————
My one overriding memory of the Ibrox disaster was that of the five schoolkids aged between 13 and 15, all from the village of Markinch in Fife, who lost their lives. I lived just a few miles away and was only 15 myself, at the time.
I remember those losses having a huge impact on the local Fife schools and communities.
---
It Is Better To Offer No Excuse Than A Bad One
HOMUNCULUS DECEMBER 28, 2017 at 15:38
It doesn't matter if it is paid to a trust or your aunt Agatha, you still have to pay the tax. I have no idea why they use the name Agatha, but they do.
========================
"Aunt Agatha" was used by the RFC QC Andrew Thornhill during the appeals process when discussing the redirection of earnings to a third party.
On a separate point about the share price. The sale of Ashley's shares to Club 1872 and Julian Wolhardt was used by King's QC at the CoS, as an example of shares trading above the 20p price.
The TOP's QC, however, countered that by claiming that Ashley wasn't interested in the share price, but was insistent that he received £2m for his shares. To that end, it was pointed out that the price per share paid wasn't 27p, 27.5p or 28p, but something to the second or third decimal place that ensured that the sum received was not £1,999,999 but a fraction over the £2m figure. I can't recall the exact fraction used, but the counter argument put forward seemed entirely plausible.
---
It Is Better To Offer No Excuse Than A Bad One
Homunculus December 27, 2017 at 22:39
EASYJAMBO DECEMBER 27, 2017 at 22:32
================================
Cheers.
Is there a way of calculating how the issue of new shares reduces the value of the existing ones, or is it not as simple as that. I don't imagine for a second it is.
I cannot believe that the sale of new shares does not effect the value of those held by existing shareholders. That would surely be market capitalisation gone mad.
================================
It's not as simple as the share price being reduced inversely proportionate to the number of additional shares issued.
The capital value (no of shares x share price) of the club is presently around £16m at 20p a share (80m x 20p), but given that the club also has £16m of debts, you could argue that a debt free club would be worth £32m (or 40p a share).
The value of the shares going forward would depend of the amount of debt written off and the number of shares issued in order to achieve that. e.g. if they double the number of shares to 160m in exchange for writing off half the debt. The capital value of the club might go up to £24m, as it only has £8m debt, but the value of each shares would probably fall to 15p. (160m x 15p = £24m)
If however, they manage to double the share numbers, write off half the debt, but also raise £4m in new money, then the capital value of the club should go up by £4m (the new money). So you could see the capital value rise to £28m, but still with £8m debt. The share price might then be 17.5p (160m x 17.5p = £28m)
I hope that makes sense. It does to me, but the nuances of share numbers, to debt, to capital raised can easily be lost, if you don't have an appreciation of where they are at just now, and where they might end up.
---
It Is Better To Offer No Excuse Than A Bad One
shug December 27, 2017 at 22:05
Great hard fought match tonight.
======================
Sadly, that was two hours of my life I won't get back. There was nothing great about it and it was more of a borefest akin to many derbies of yesteryear. Tom English described it perfectly as "Thud and Blunder"
---
It Is Better To Offer No Excuse Than A Bad One
Homunculus December 27, 2017 at 18:21
I take it all that has happened is that they passed the resolution allowing them to issue new shares. Those new shares have now been created.
This is them simply notifying Companies House that they have done that, Companies House records show how many shares have been issued.
That has to be done before they can actually sell them to anyone.
Purely a procedural matter I would have though.
=========================
It's not got as far as creating the shares. It's merely confirmation that the Board has the authority to issue shares up to the specified limit. That authority expires on the date of the next AGM.
The allotment of up to a nominal value of £1,086,376.01, means that new shares equivalent to 1.333 times those currently available can now be issued. I'm sure that there will be a good reason for the number of new shares being set at that specific level, but I can't think of one.
---